Mobile     21 m²      All
      Type            Size         Climate
With large windows, flexibility and interior clarity, the Loft is perfect to connect with nature and enjoy distant views. Its versatile space with an integrated kitchen, transparent bathroom, an interior height of 2.70 m and materials such as glass, aluminum, wood and vinyl create an experience of luxury, comfort and avant-garde.
Equipped with control and automation technologies: SmartLock smart lock, Italian brand AVE touch switches and plugs, and All in One audio systems (optional).

Gray and black tone walls (plasterboard / porcelain tiles).
Vesto melamine furniture in wood tone.
Thermopane windows and black frames.
Bright white tone ceiling.
Light gray wood tone vinyl floor.
Custom Roller blinds.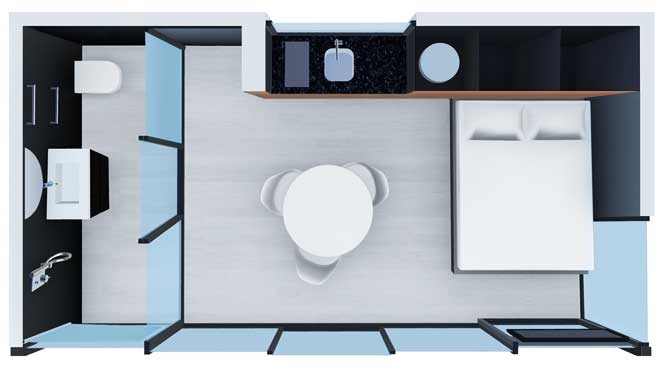 + Integrated TV Stand
+ Sound System All in One
+ Independent Electric System (PV)
+ Independent Water System